Oh, Christmas Tree,
Oh, Christmas Tree,
How lovely are thy branches…
Halloween is barely over and here we are, already preparing for the Holidays! A family outing on a quest to choose the perfect Christmas tree is a favourite tradition. Are you leaning toward a natural tree or an artificial version this year? We love the heavenly fragrance of the natural tree, but how to make sure it lives into the New Year? It's easy! Just choose the right variety and follow our savvy maintenance tips.
Artificial trees are not very environmentally friendly!
An artificial Christmas tree certainly is a better long-term investment, however what about its carbon footprint? According to a study conducted by the Ellipsos Group of Montréal[1], a natural Christmas tree emits 3 kg of greenhouse gases over its life span. An artificial tree emits around 8 kg of greenhouse gases per year. This means an artificial tree must be used for 20 years to have as little impact on the environment as a natural Christmas tree. Unfortunately, the average life span of an artificial tree in North America is only 6 years.
More precisely: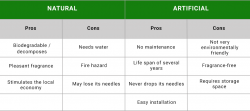 Choosing the right natural Christmas tree
Cut and/or potted, natural Christmas trees are generally sold at garden centres, seasonal markets, and directly at nurseries. Before buying one, make sure you know the ideal height for your room and the amount of space you have to work with. Start shopping by identifying symmetrical trees with a generous number of flexible, healthy branches with bright green, shiny needles.
TIPS: To determine whether your tree is freshly cut, slide your thumb and your index finger along a branch. No more than 5 to 10 needles should fall off in your hand. Alternatively, lift a branch to check its weight. If it is quite heavy, it means the tree is full of sap and therefore, freshly cut!
Here are a few popular varieties to help you get your bearings. The Balsam fir and the Fraser are the most commonly available varieties.
Balsam fir:

Fragrant and woody
Dark green hue
Preserves its needles
Resists heat

Fraser:

Fragrance-free
Blue-green hue
Keeps its needles longer than the Balsam
Lasting, sturdy, and symmetrical

Nordmann:

The ultimate Christmas tree (hardy)
Intense green hue
Light fragrance
Does not drop its needles

Norway spruce:

The traditional Christmas tree (the most classic)
Bright green hue
Affordable
Drops its needles quickly

Nobilis or noble fir:

Blue-green or even silver hue
Pleasant, slightly citrus fragrance
Heat-resistant
Ideal for wreaths and natural garlands

Douglas:

More of a pine than a fir
Perfect for wide open spaces
Airier and less imposing
Intense green hue

5 tips for welcoming home and properly maintaining your natural Christmas tree
Ideally, purchase your tree 2 to 3 weeks before Christmas to preserve its splendour throughout the Holidays. Once your tree arrives:
Four hours prior to installation, cut the base of the trunk on a bevel (2 cm) to remove the hardened sap "plug" and ensure water absorption. Avoid removing the bark, which is indispensable for ensuring proper water circulation throughout the tree. The vessels where the water circulates are located immediately next to the bark.
Remove the protective net before positioning the tree vertically in its stand. The stand should ideally contain 6 litres of water.
Next, arrange the branches and make sure they are all away from heat sources (central heating) to prevent the tree from drying out.
Fill the reservoir with lukewarm water. A new tree will absorb 4 litres of water on the first day and 1 litre every day thereafter. Don't be surprised if you need to fill it more than once on the first day. It is important to add water daily to keep the base of the trunk immersed and prevent the needles from dropping.
What to do with your Christmas tree after the Holidays?
Once the Holidays are over, ask your municipality for the Christmas tree collection schedule. Once collected, natural Christmas trees are generally converted into compost or mulch or used to make essential oils. It goes without saying that you should strip your tree of all decorations before discarding it! A poorly stripped tree cannot be recycled.
 For even more gardening articles, visit our Gardening Tips section and follow us on Facebook and Instagram.
Happy Holidays!
[1] https://www.sciencepresse.qc.ca/blogue/2011/01/25/sapin-ecolo-naturel-artificiel