We all really care about the beauty and the health of our indoor plants, and the last thing we want are pests infesting them. Fungus gnats are little known by people, and their presence in the plants can be really upsetting.
What are fungus gnats?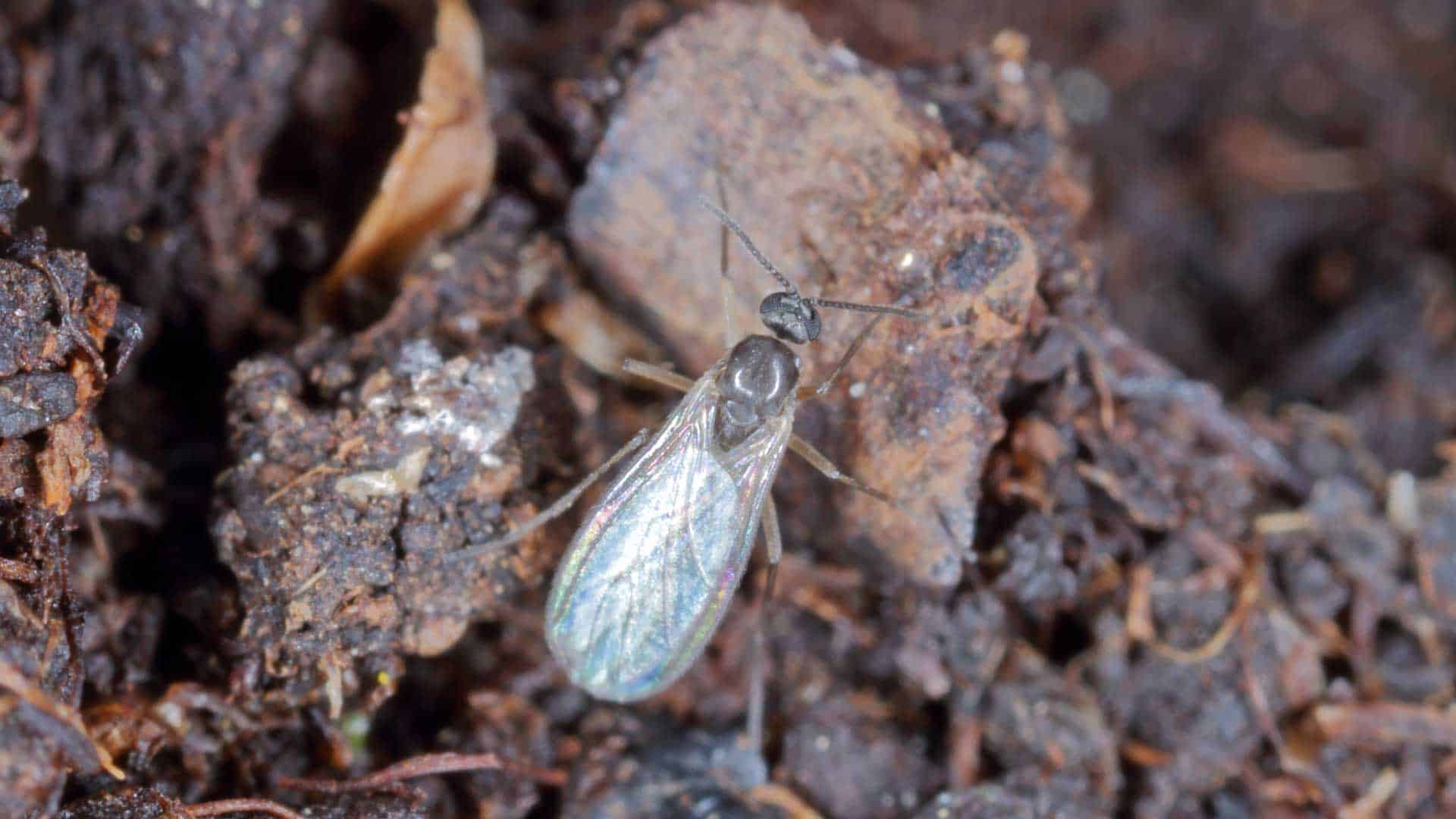 Similar to tiny black mosquitoes, they are small long-legged winged insects (adult gnats about 1/8" long) that are about the same size as fruit flies. Fungus gnats are weak fliers and do not live long. They are attracted to humid environments where the breeding conditions are favourable. The good news is that they are less damaging than other pests. Fungus gnats are not interested in the leafy parts of plants but rather in their moist, rich soil. It is an ideal place to lay their eggs. They feed on decomposing organic matter in the soil and may also feed on root hairs.
If you see tiny insects flying around your plant every time you water it, they are probably fungus gnats. The problem arises when the soil of your plants is constantly wet. It becomes a prime environment for insects. To avoid this, it is important to let the soil dry between waterings.
5 Tips to get rid of fungus gnats
1. Isolate your plant and prevent spread
When you notice fungus gnats in your houseplants, start by isolating your infested plant for about 1 to 2 weeks so it reduces the spread of fungus gnats to other plants. It may also be a good idea to keep new plants quarantined for several days after your purchase to make sure you don't bring new visitors home and infest your entire urban jungle.
2. Dry out the soil completely between waterings
Because fungus gnats like to lay their eggs in damp soil,allow the soil to dry out completely to a depth of 2 inches before you water those pots again. This will help you avoid the spread of these little bugs. If the soil is dry.
3. Repot your plant or do a resurfacing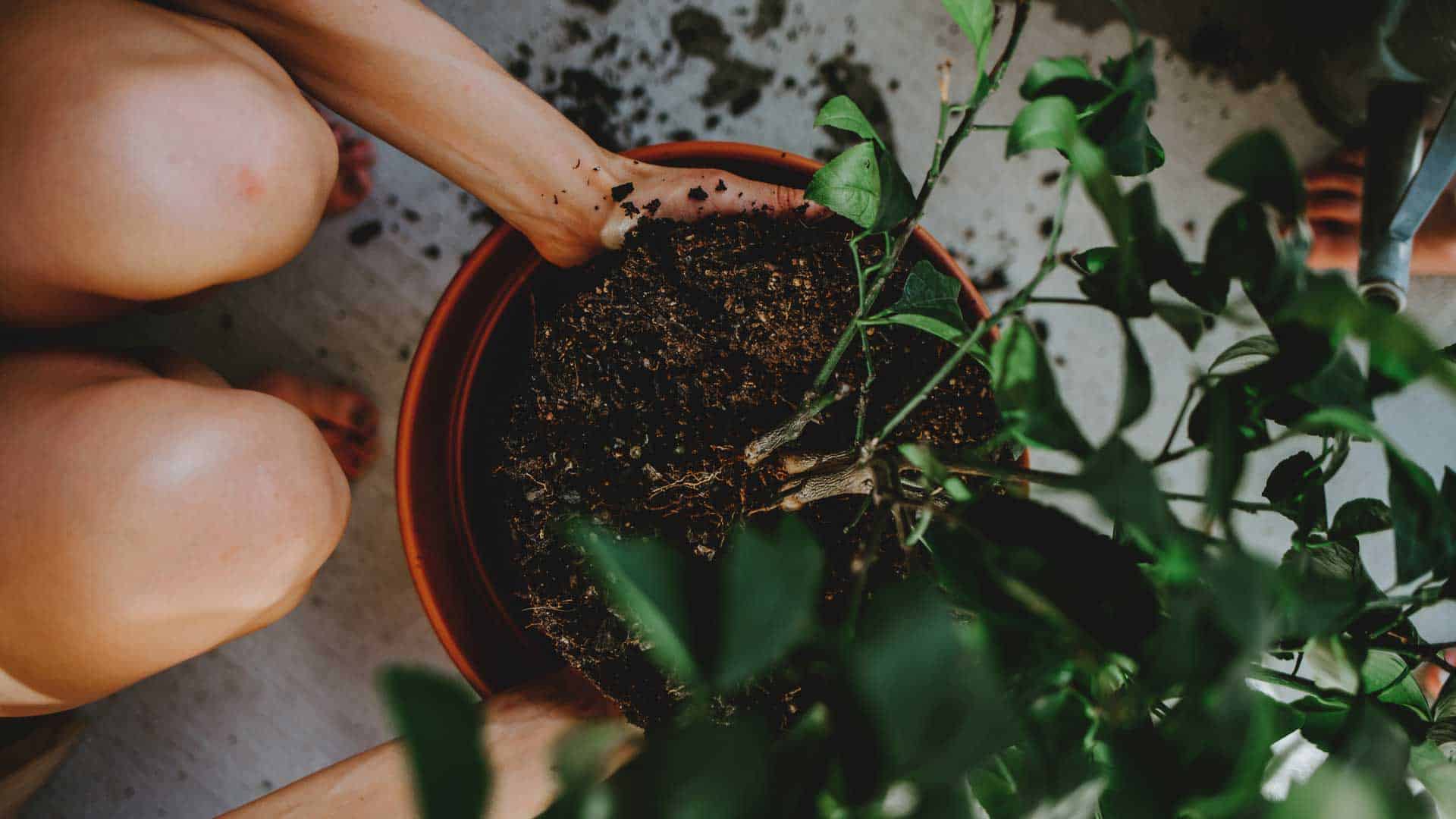 A complete resurfacing or repotting of your infested plant can be a good way to get rid of fungus gnats for good. To do this, choose a potting soil that does not contain bark or composts which are known to shelter fungus gnats. Then opt for the ConnaisseurⓇ Potting Soil for Indoor Plants.
If you choose the topping option (resurfacing), remove a good 2 inches of potting soil from the top of the root ball before covering with new potting soil. For a complete repotting, take care to gently clean the roots of your plant and thoroughly wash your pot if you wish to reuse the same one. Once this is done, you are ready to repot your plant into the new potting soil.
4. Try the sticky traps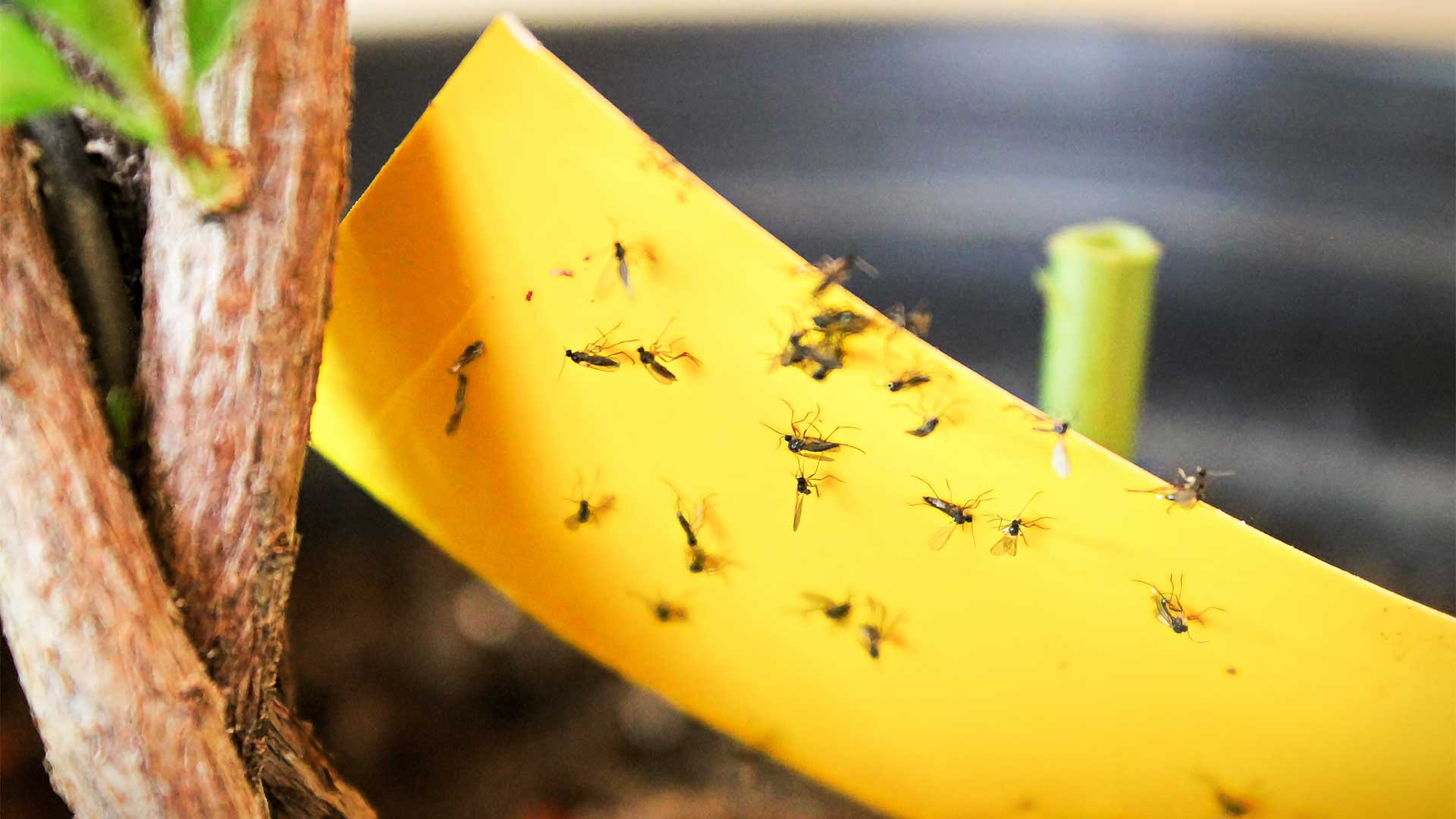 Place sticky traps, ideally yellow in colour, on the ground around your plants. Fungus gnats are attracted to yellow and do not fly very high. They tend to stay on the surface of the soil. You'll be amazed at how many bugs you'll catch on the stickies. After that, simply replace the traps every week. This will stop the egg laying, and the fungus gnats will decrease day by day. Refer to a  garden center near you to get this type of product.
5. Create a barrier on the surface
Fungus gnats larvae live on the surface of the soil because they often come to the surface to breathe, and this is where the soil is normally more humid. The goal is to make the soil surface unfavorable to life and reproduction. To do this, simply cover the surface of the potting soil with a layer of sand or small stones of about 1 cm and that's it!
3 Tips to prevent fungus gnats
1. Inspect your plants inside after the summer season
If your plants were outside during the summer and you want to keep them indoors for the rest of the year, it is important to take precautions first. Some insects may have taken up residence in the soil during the summer, and you need to eliminate them before keeping your plants indoors.
2. Use a potting soil without compost or bark
The choice of potting soil can be responsible for the presence of fungus gnats. Indeed, some potting soils containing compost and bark are very appreciated by these dear visitors.  This is why it is important to choose a potting soil that corresponds to the growing conditions of the chosen plant and that is specially designed for their environment – in this case, the interior of our homes.
3. Be aware of overwatering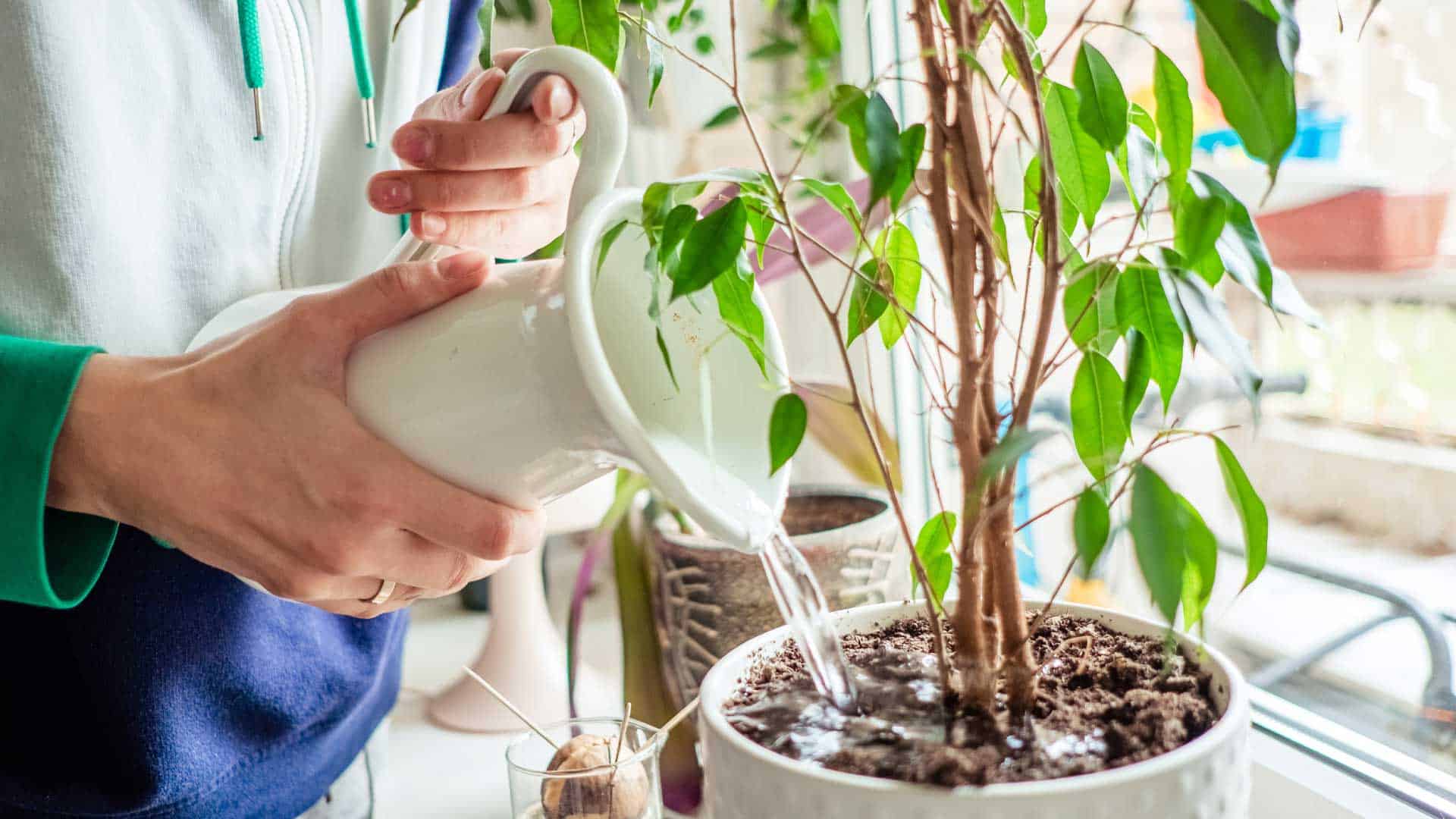 It is important to avoid overwatering your plants. Very wet soil is what fungus gnats prefer. Let the first few layers of soil dry out between waterings. This is an excellent way to interrupt reproduction and reduce the number of gnats already in the soil. Ideally, you should even water your plants from the bottom if your pot allows it. This is a good way to prevent the first layers of soil from getting too wet.
The effectiveness of homemade recipes such as insecticidal soap, neem oil or hydrogen peroxide has not been scientifically proven, but there are many positive comments on the Internet. Feel free to try them!
By following these tips, you should be able to get rid of fungus gnats or at least prevent their presence and keep your plants healthy. Follow us on Facebook and Instagram for even more tips and advice.