We're starting to hear a lot of chatter about young shoots, or microgreens. We eat them often, but what do we really know about them? This article contains everything you need to know about the tiny edible plants.
 1. Microgreens – what are they?
Microgreens are grown from cereal, vegetable and herb seeds.
Often confused with sprouts, microgreens are different. Microgreens contain more fibre and are grown in
soil, while sprouts are young plants (in their first stage of life) that are grown in a germinator or glass jar.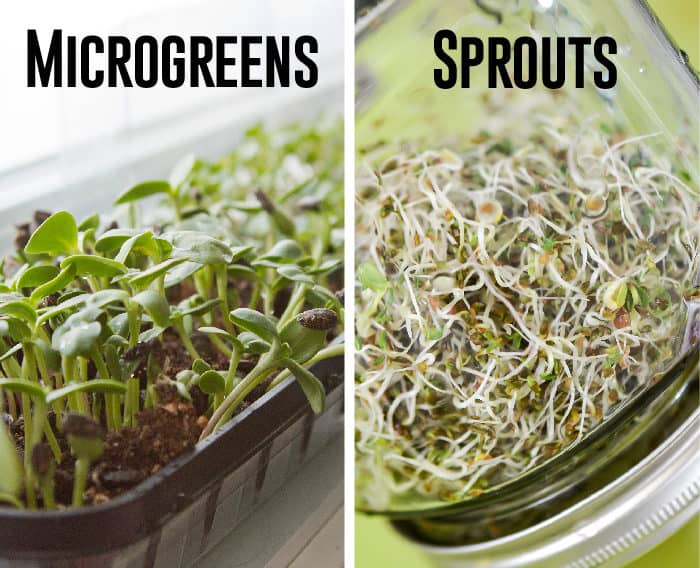 Microgreens can be enjoyed raw in sandwiches, salads, juice and smoothies, and they are a healthy addition to a variety of cold and warm dishes. They can add a tiny crunch and provide a texture contrast. Spicy or mild, crisp or tender, microgreens are an innovative, tasty extra!
2. The benefits of microgreens
Microgreens are full of benefits. Packed with nutritious elements, they are wonderful for your health and often contain more vitamins, minerals and antioxidants than their mature counterparts.
For instance, did you know that red cabbage shoots contain much more vitamins than mature plants? We're talking about nearly 69 times more vitamin K, 40 times more vitamin E and 6 times more vitamin C. Coriander shoots contain three times as much beta carotene, or provitamin A, than mature coriander!1
Microgreens provide a concentrated dose of nutrients and beneficial vegetable components, helping to improve digestion and stimulate the immune system.
3. How are they grown?
Microgreens are easy to grow because they don't require much equipment or time. Most microgreens are ready to eat in a week or two at most. Grown indoors, they can produce year-round if well cared for. It's easy to keep them on hand!
To grow microgreens, you need three things:
–  Good quality seeds
–  An appropriate growing environment such as a container filled with Fafard's Agromix soil mix for seedlings and sprouts
–  Approximately 12 to 16 hours of light per day (natural or artificial)Although many varieties are available, here are our suggestions, which are generally easy to find and grow: sunflower, radish, beetroot, coriander and mustard.
How to store them… Once the shoots are ready, you'll have two options:
Cut them at the base of the stem and rinse them off. Spread them out so the excess waterevaporates and store them in a bag or sealed container in the refrigerator. They will keep for around 7 days.
Place the soil container directly in the refrigerator. The shoots will last for 2 to 3 weeks if keptmoist.
For detailed instructions on how to grow microgreens, click on the link below to download our project file: How to grow microgreens.
Watch the video to know everything about micregreens' culture:
Follow us on social media for more growing tips! —
(Source: Journal of Agricultural and Food Chemistry, 2012)
Other source:https://www.mapaq.gouv.qc.ca/fr/Productions/agricultureurbaine/trucsconseils/Pages/pousses- germinations.aspx