What better way to beat those long winter blues than to think about spring and starting the adventure of growing your seedlings into a bountiful feast! It's time to add some green to our daily lives. Although exciting and rewarding, the process is not as simple as it seems.
First you have to think about the varieties you want to sow and when is the best time to do it. Some vegetables and herbs are also easier to grow than others. Here is a small chart to help you choose: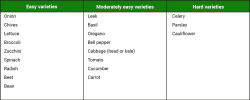 To know the varieties to sow and especially when to start seeding, refer to our Seedling Calendar.
If you would like to start seeding, but don't know exactly how to do it, check out our article to find out what you need and of course the step-by-step instructions.
In addition to adding a little greenery in your home in March, seeding your own seedlings has many advantages:
A large choice of seeds
A nice family activity
An economical solution
What is the germination rate?
The germination rate of seeds varies between 70 and 100%. It is therefore more advisable to plant more seeds than necessary to ensure that you have beautiful, strong plants in sufficient quantity. You will be able to thin out your seedlings by keeping the most beautiful seedlings as soon as the first pair of leaves will appear. However, don't overdo it: the chances are low that you will need 20 tomato plants in the garden!
On average, the longevity of seeds is about 3 years but it can go up to 10 years depending on the species. In addition, the germination rate decreases over the years. Be aware that in good storage conditions (cool place away from light and humidity) your seeds can keep several years with satisfactory germination rates despite an expiration date.
In order to determine if your seeds are still good, just do a germination test. To do so, place 10 seeds on a moistened paper towel. Fold the paper in half and place it in a plastic bag (Ziploc type). Place in a dark and warm place such as a kitchen cupboard. Wait a few days/weeks and count the number of seeds that have germinated.
More than 7: Normal germination rate
Between 4 and 7: Sow twice as much as normal
Less than 4: It is better to buy new seeds
Be careful with watering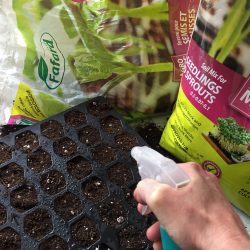 Your potting soil should always be cool and moist, but never soggy. Use a spray bottle or a small rain-type watering can for watering. Water in the morning, when the plants are more receptive. Water as needed, not necessarily every day. Also remember to turn your tray regularly so that the seedlings grow straight. Otherwise, they will tend to follow the sun and therefore grow in that direction.
Advice :
In addition to identify your seedlings and remind you which one is where, indicate the planting date will be used as a reminder of both the presumed time of sprouting and the ideal time to begin fertilization.
Fertilization: should the seedlings be fertilized?
About 2 weeks after sowing, your seedlings should start to sprout a little. When your seedlings have between 4 and 6 real leaves, it's time to fertilize them both with a 20-20-20 Water Soluble All Purpose Fertilizer. Simply add half of the recommended dose to your watering water.
How do I know if my seedlings are working?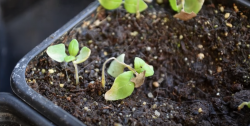 If after a few weeks nothing grows, start sowing again without delay. If your seedlings are damping off, you may be victim of a fungal disease : Seedling Milt. The best thing to do in this case, unfortunately, is to throw everything away, disinfect your material and start seeding again. Take care not to water too much and remove the germination dome as soon as the first sprouts appear.
If your seedlings tend to wither, that is to say to grow in length and to be very frail, it is possibly by lack of light. Adding artificial lighting will help.
To succeed and take full advantage of the seedling experience, you must have time and above all the space to do it. It is such a rewarding activity. You will enjoy watching your seedlings grow and taking care of them with the children. What about your harvests? You will be charmed and especially delighted to savour the vegetables that you have sown yourself in the comfort of your home.
Let the adventure begin!
Happy gardening.