The Japanese are masters in the art of cultivating plants in a surprising way. One only has to think of bonsai to understand all the work and patience they use to create impressive plant decorations. From the very complex art of bonsai came neirai, which consists of removing the bonsai from its pot to grow it on a tray covered with moss, and more recently, kokedama has made its entry into modern decoration. Much simpler and easier to create and maintain, the kokedama is now a living decorative element that more and more people are adding to their plant collection.
What is a kokedama?
The word kokedama means moss balls. In reality, a kokedama is a plant that is grown without a pot and whose roots are surrounded by a ball made of potting soil mixed with clay and covered with living plant moss. Generally, these plants are placed on a plate, a wooden tray or even directly on a piece of furniture. They can also be suspended with a wire to give the impression that they are floating in the air.
How to create a kokedama?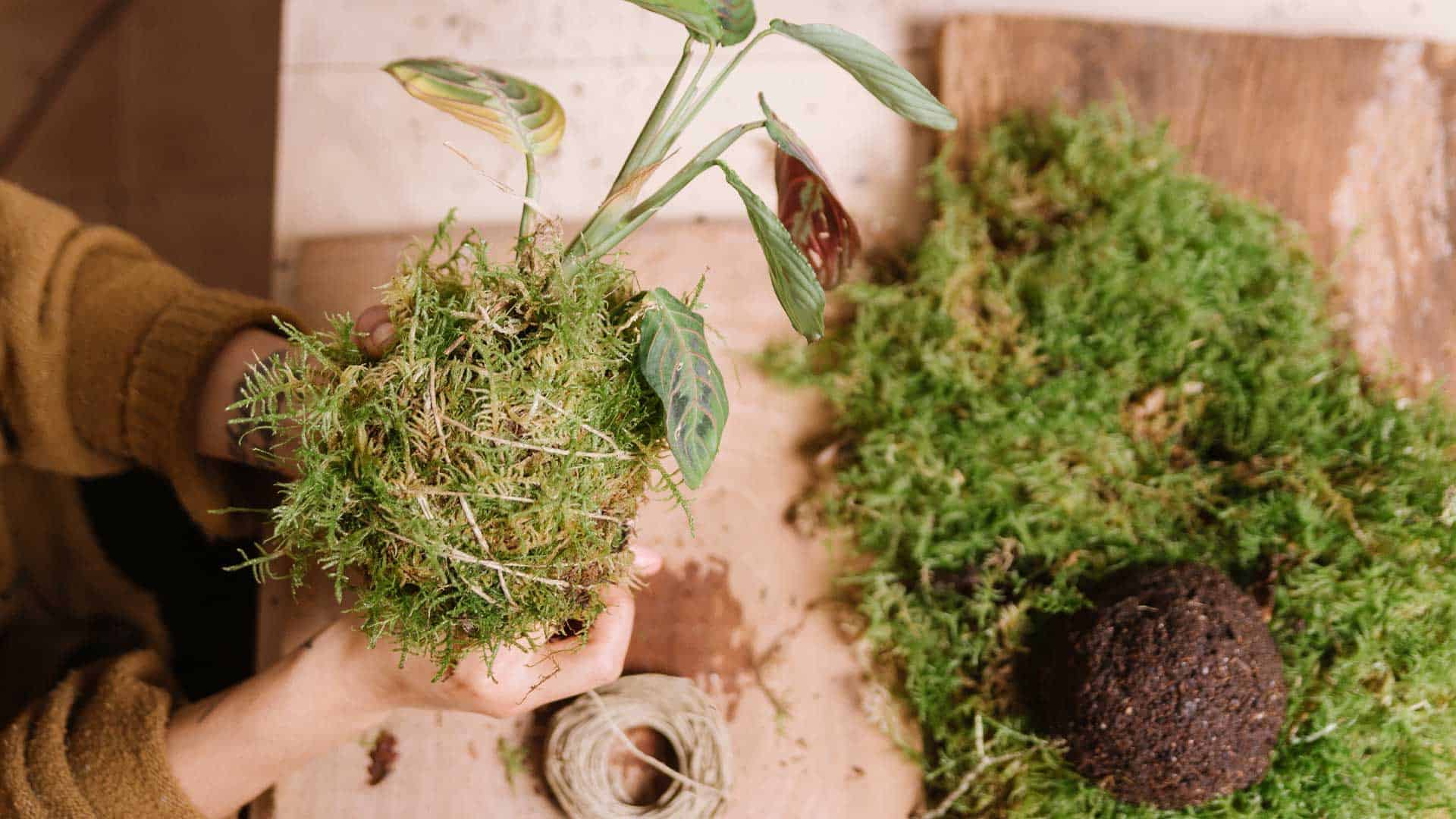 Making a kokedama is a pretty simple activity that you can even do with kids.
You will need:
Plant
White or green clay
Sphagnum Peat Moss
String
Steps:
Soften the clay in a little water and mix it with the potting soil in a ratio of one third clay to two thirds potting soil. You should obtain a malleable paste.
Gently move your plant, remove the excess potting soil and cut off any roots that are too long or damaged.
Make a ball of potting soil around the root ball.
Cover the ball with a layer of sphagnum moss that you have rehydrated in water. Wrap the ball with string to keep the soil in place.
Place your kokedama in its final location and enjoy!
Kokedama maintenance
Kokedama is a living plant that requires some maintenance. To water it, simply immerse it in a water bath and let it soak for 15 to 20 minutes, then drain it. A good trick to know if your kokedama needs to be watered is its weight: the lighter it is, the more water it needs. You can fertilize your plant with a fertilizer appropriate for the type of plant used by following the manufacturer's instructions. Simply mix the fertilizer into the water before soaking.
You can also trim the moss as needed to keep it looking neat. If the roots of the plant come out of the ball, you will have to start again by making a bigger ball of substrate to cover them or put your plant back in the pot and create a new kokedama with another kind of plant.
Which plants are recommended for kokedamas?
Several types of plants are suitable for growing in kokedama. We look for plants that don't need too much moisture. Epiphytic plants such as orchids and bromeliads, succulents and some hardy houseplants such as ferns, sansevières or philodendrons normally work well in a kokedama. Just make sure you give them the light they need to thrive and most importantly: have fun!
For more gardening tips and advice, follow us on social networks.