Are you dreaming of having a lush green lawn that's the envy of your neighbourhood? Maintaining your lawn is essential if you want to enjoy it as soon as the first days of summer roll in. A healthy lawn is the result of a complete maintenance program, and fertilizing is one of the most important steps. In fact, this step will allow you to obtain faster results.
Why fertilize your lawn?
Fertilizing is essential for a dense green lawn. At the end of the winter, your lawn will have been weakened by the snow and frost and now needs energy to regain its strength and full splendour. The aim of fertilizing your lawn is to provide it with essential elements all summer long. Also noteworthy – The denser your lawn, the less likely it is to grow weeds!
When to fertilize? Three times per year
It is important fertilize in the spring and fall, namely during active growth periods. In the summer, during droughts or heatwaves, the lawn is resting (dormant). Don't be surprised if it looks dry or even dead. It will turn green again within a few days of a steady rainfall. This will trigger an active growth period, which will require nutrients. This is a great time to fertilize again!
Spring (May-June):
For rapid greening and increased density
Summer (July-August):
Helps to keep it green and resist drying out
Fall (September-August):
Protects against winter's harshness, thereby prompting a faster recovery the following spring.
Our program, Natural lawn fertilizers – Steps 1&2 and 3 is the winning formula for a lush green lawn all summer long. This hen manure-based fertilizer stimulates the soil's microbial activity. It provides a source of organic matter that helps to prevent damage caused by dryness. It gradually releases its nutrients, thereby extending the effects of fertilization.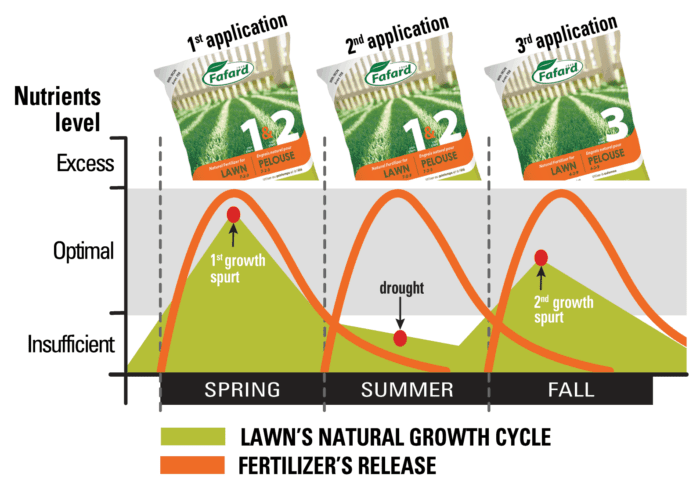 Lime: correcting the pH for optimal fertilization
Did you know that the soil's pH level can affect the results of fertilization? The pH level impacts the soil's structure and determines the quantity of nutrients your lawn absorbs from the soil. Over time, the soil becomes acidic because of rain, debris decomposition and fertilizing. The application of granular lime will counteract this natural phenomenon by helping to reduce the soil's acidity while adding magnesium (promotes greening). Accordingly, it is an important ally in maximizing the effectiveness of your fertilization program. To decide whether to apply lime, request a soil analysis – This service is offered at several garden centres!
When to add lime to your lawn?
The application of granular lime is ideally done in the fall before a period of rain. This gives the soil enough time to absorb the lime and adjust its pH level before the warm weather arrives in the spring. Lime can also be added in the spring or summer.
For more tricks and tips and to learn all about spring lawn maintenance, refer to our Lawn Calendar.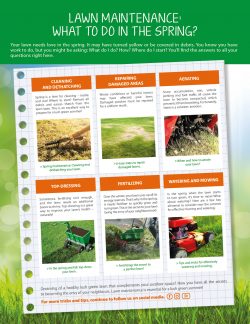 To discover many more tricks and tips, follow us on Facebook, Instagram and YouTube.