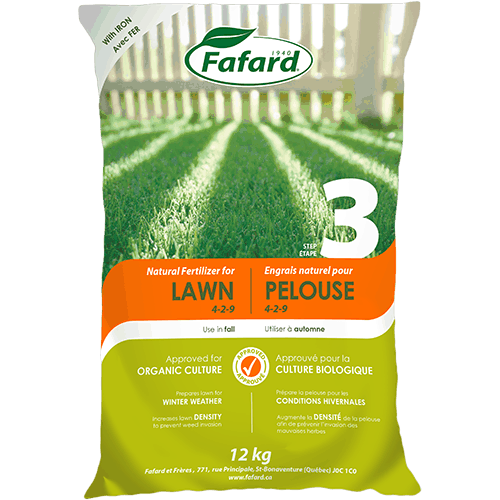 Natural Fertilizer for Lawn (Step 3/Fall)
NPK
4-2-9
FORMAT
12 kg
Natural lawn fertilizer 4-2-9 (Step 3/Fall) is specially designed to prepares lawn for winter weather, which will promotes a better recovery the following spring.
Approved for organic gardening, this hen manure-based fertilizer stimulates beneficial soil microorganisms while helping prevent damage from drought.
CHARACTERISTICS
Approved for organic gardening
Prepares lawn for winter weather
Increases lawn density to prevents weed invasion

Hen manure based natural fertilizer stimulates biological activity of the soil. It is a source of organic matter that helps prevent damage from drought. It gradually releases its nutrients, providing long-lasting effects.

USES
Apply Natural lawn fertilizer 4-2-9 (Step 3) in the fall (September - October)
By feeding your lawn 3 times per year, you will enjoy a thick and vigorous lawn that will help crowd out weeds.
INGREDIENTS
Hen manure, feather meal, iron sulphate, potash sulphate

GUARANTEED MININUM ANALYSIS
Total Nitrogen (N) - 4%
Available Phosphoric Acid (P2O5) - 2%
Soluble Potash (K2O) - 9%
Calcium (Ca) - 5%
Iron (Fe) (Actual) 1%
Minimum Organic Matter - 50%
Maximum Moisture - 10%
A 12 kg bag of fertilizer can fertilize 250 m² (2691 ft²) of lawn