Those who sow their seeds in the spring will reap beautiful fresh vegetables when the sun comes out. In addition to being economical, seeding vegetables and herbs indoors is a fun activity that allows you to see the fruits of your efforts grow with pride. It's very simple, but there are a few guidelines to follow if you want to be successful.
Table of contents
Follow the timeline
Seedling Schedule :
Early March
Mid-March
Early April
Mid-April
Cucumbers and zucchini
Seeding in the vegetable garden
Hardiness zone
Follow the timeline
As each variety of vegetable and fresh herb has its own growing period, it is important not to plant everything at the same time and also, not to start too early. Of course, the urge is strong to plant everything in February to give yourself some hope of good weather, but you must resist! The first seedlings must be done in March, not before!
Seed packets instructions are good indicators of when to seed the different varieties. If you know the date of the last frost in your area, you will know exactly when to seed, whether indoors or outdoors. Always remember that it is better to plant a little later than too early.
Vegetable and herb planting calendar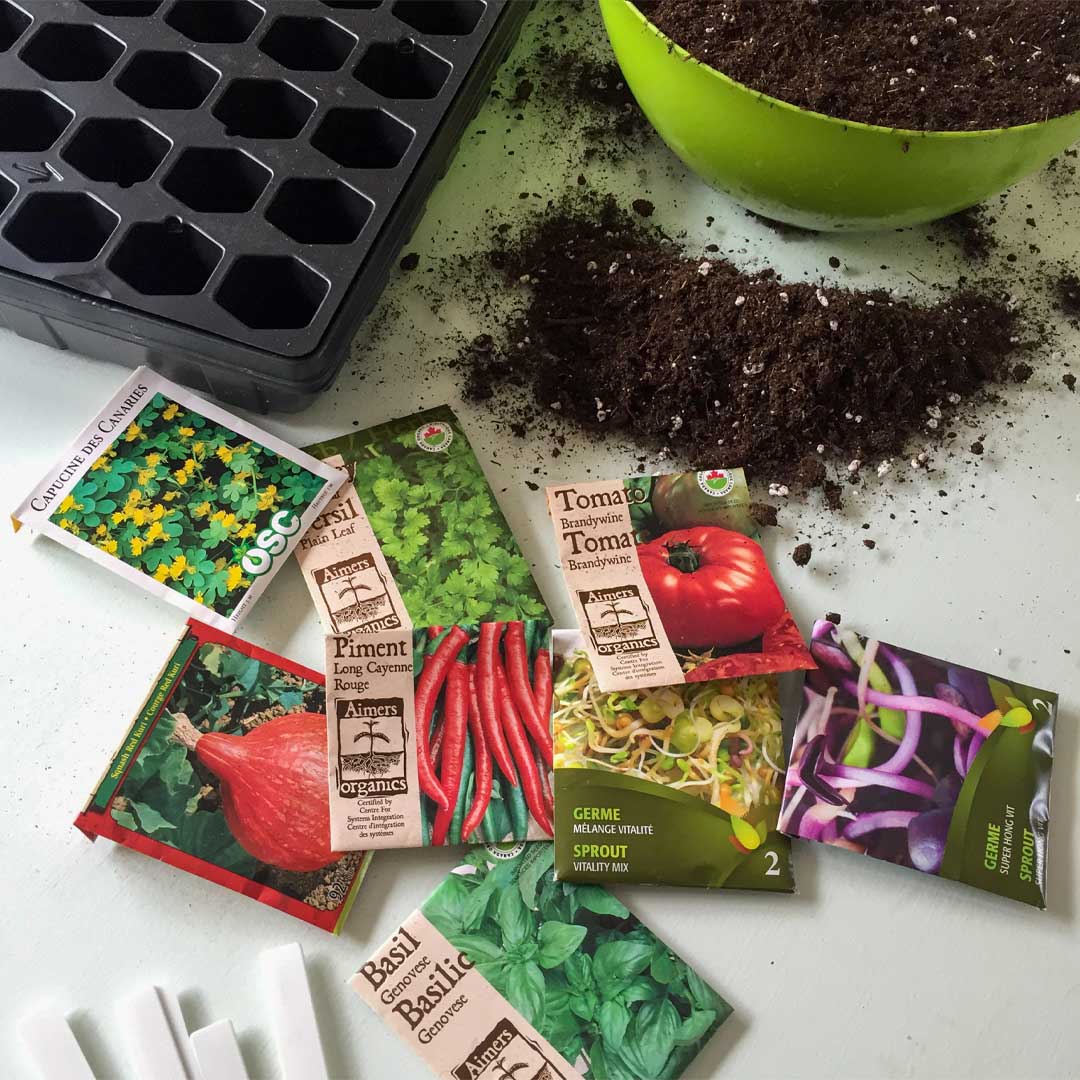 Beginning of March: it is time to start seeding. We plant : 
Onions.

The onion is an easy-to-grow vegetable. Germination takes 4 to 5 days. Onion seeds can be sown indoors from the beginning of March to be transplanted to the vegetable garden at the beginning of May. You can also plant onion bulbs directly in the ground.

Leeks.

The leek is a vegetable a little more capricious and requires more skills. It germinates between 5 and 7 days and the seedlings will have to be transplanted. Sow them tightly, about 1 cm between seeds, to keep the most vigourous plants. You can transplant them to the garden in May.
Mid-March is the time for planting. You can plant almost anything including : 
Basil.

This herb that everyone loves takes between 5 and 21 days to germinate. You can transplant basil to the garden in early June. Since it doesn't like to be transplanted too much, plan a good space between the seeds right away, 2 to 3 cm. Ideal for intermediate gardeners.

Celery.

Warning: For experienced gardeners only! Plant more than you need, as the plants do not emerge regularly. You will keep the most beautiful ones. Celery takes between 5 and 21 days to germinate and is ready to be transplanted by mid-May.

Cabbage.

All varieties of cabbage, kale, apple, green, etc. grow quite well. Try several! They sprout in 4-7 days and will be ready to go outside by early May.

Chives.

Chives are the perfect herb for beginners and are very easy to grow. You will see it germinate in 7 to 10 days and you can put it in the garden at the end of May. Did you know that chives are perennial? It will grow back on its own, so there is no need to sow it every year.

Oregano.

Oregano is a moderately difficult herb to grow. Its seeds are small and should be spaced about 2 cm apart and not covered with soil. They will germinate in 7 to 14 days. You can take the plants outside at the end of May.

Parsley.

If you like a challenge, parsley is for you. This fresh herb grows back every two years, but its taste becomes bitter and unappealing; it's best to reseed annually. It germinates between 7 and 21 days and can be transplanted to the garden a little earlier than other herbs, around mid-May.

Peppers.

Peppers are a bit temperamental. They like heat, both seedlings and mature plants. Germination takes between 6 and 8 days and they should not be taken out before early June: they are cold!
Early April: the last seedlings are put in the ground. It's time to sow: 
Broccoli.

Broccoli is an easy-to-grow vegetable. They germinate between 10 and 12 days and will be ready to transplant to the garden by mid-May. Your broccoli should be transplanted when it has 3-4 true leaves.

Cauliflower.

This is for the experts. This plant is very capricious and requires a good follow-up. If you give it a shot and are successful, you will see your seeds germinate in 4-7 days. Transplant to the garden at the end of May.

Lettuces.

Lettuces grow quickly so you can sow them directly in-ground. If you want an early harvest, start your seedlings indoors. They will start growing in 2 to 10 days. The same goes for chard.

Tomatoes.

This is probably the most common seedling, yet it's not the easiest to do. Plant several types of tomatoes, red, pink, large, cherry, etc., to vary your menu. They will only be put out in the garden in early June, at the same time as the peppers.
What about cucumber and zucchini?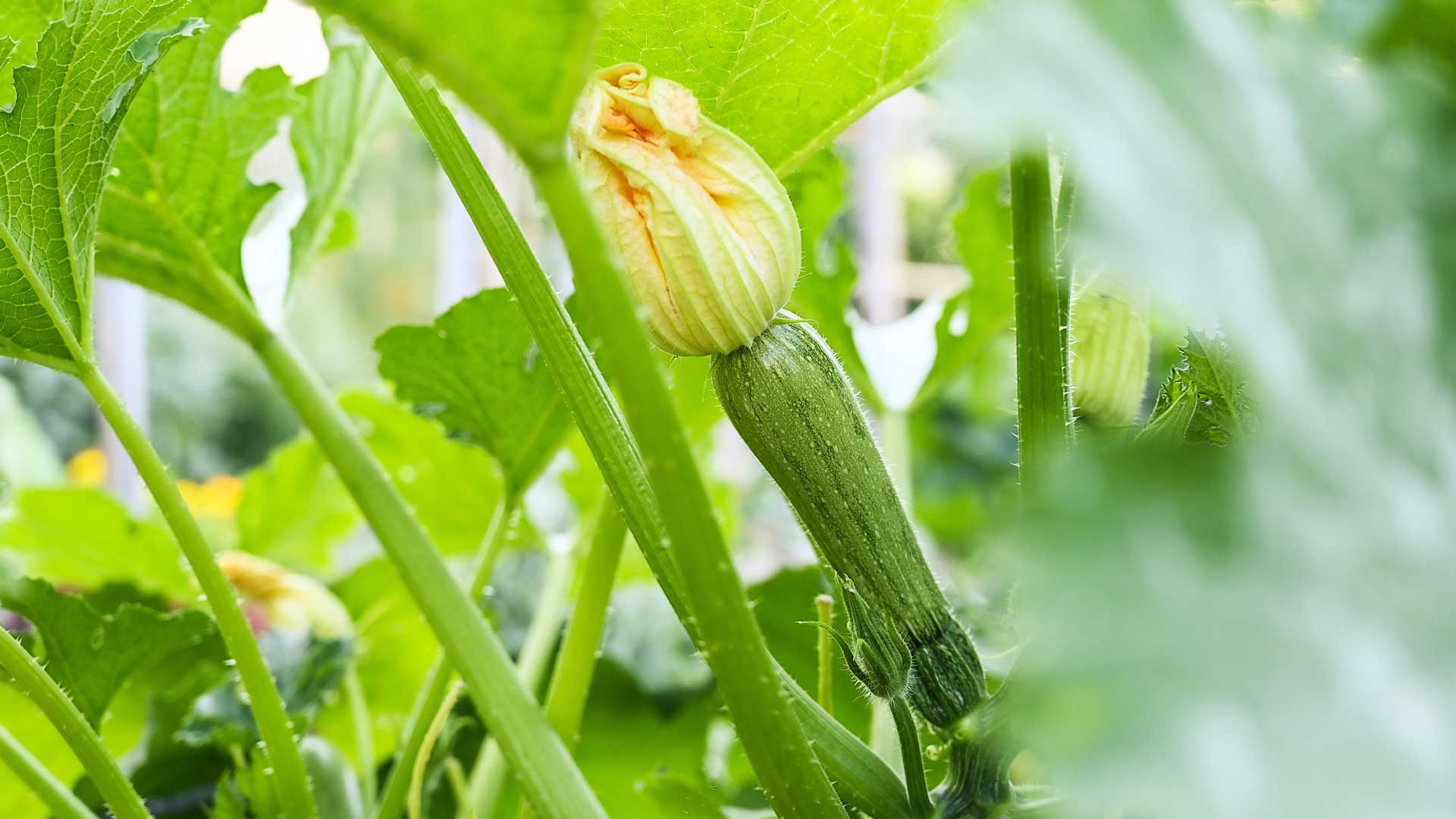 Cucumbers and zucchinis can be planted indoors for only 2 to 4 weeks before transplanting to the garden in early June. They should not be planted too early. Depending on the region, sowing should be done between the beginning and mid-May. Be careful, these plants do not like to be handled. It is therefore ideal to sow them on peat pellets.
And the others? Directly in the ground!
Some vegetables do not need to be planted indoors. They can be planted directly in the garden. This is the case of : 
Spinach:

to be sown in the ground from mid-April

Radishes:

to be sown in early May

Carrots and beets:

to be sown in the garden in mid-May

Beans:

Sow in early June
Adjust according to hardiness zone
Depending on your hardiness zone, you may need to adjust this calendar which is ideal for hardiness zones 5b to 6b (Montreal, Laval, Ottawa, London and surrounding areas). It is the planting time that will vary for certain regions and since we do not want to plant too early, here is how to adjust your planting dates according to your hardiness zone: 
Zones 2 to 4b:

delay your sowing by 3 weeks

Zones 4b to 5a:

delay seeding by 2 weeks

Zones 5b to 6b:

follow the schedule suggested above

Zone 7:

you can advance your seeding by two weeks
To find out your hardiness zone, use the calculator on the W.H. Perron website using your postal code. Knowing your hardiness zone will be very useful in choosing plants that will tolerate your environment well. 
If you wish to obtain an even more precise date, refer to the dates indicated on the back of the seed bags. You will also need the date of the last frosts in your area. Unfortunately, those found on the Internet are averages obtained over the last few years. We suggest that you add two weeks to be sure. Remember that it is better to seed too late than too early.
For your seedlings to be successful, you must be patient. Sowing too early will not help you, on the contrary. To find out how to do your own seedlings or what materials you need, see our article on the subject. You will also find a lot of tips and advice for your seedlings in our article: Tips and advice for successful vegetable and herb seedlings.
Good luck!