Whoever sows in the spring will harvest beautiful, fresh vegetables on sunny days. In addition to being economical, sowing your vegetables and herbs indoors is a fun and pleasant activity that allows you to see the fruit of your efforts grow with pride. It's very simple but there are a few guidelines to follow if you want to be successful.
Respect the schedule
As each variety of vegetable and fresh grass germinate at different times, it is important not to plant everything at the same time, but also not starting too early as well. Of course, there is a strong desire to plant everything in February to give ourself a little hope of good weather, but we need to resist! The first seedlings must be done in March, not before!
Adjust according to hardiness zone
For Montreal, Laval, Ottawa, London and the surrounding area (Zone 5b to 6b), rely on the dates in the following calendar. For other regions, advance or delay according to the following indications:
Seedling calendar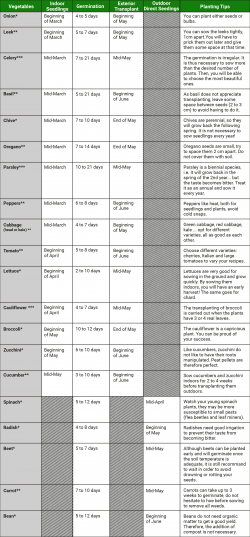 *Easy
** Moderately Easy
*** Hard
If you wish to obtain an even more precise date, refer to the dates indicated on the back of the seed bags. You will also need the date of the last frosts in your area. Unfortunately, those found on the Internet are averages obtained over the last few years. We suggest that you add two weeks to be sure. Remember that it is better to seed too late than too early.
To find out how to do your own seeding or to find out what equipment you need, read our article.
You will also find a lot of tips and advice for your seedlings in our article: Tips and tricks for successful vegetable and herb seeding
Good success!