Snow accumulation, rain, vehicle parking and foot traffic are all factors that cause the lawn to become compacted, which prevents it from breathing properly. Fortunately, there is a solution: aeration.
How to determine if your lawn needs aerating?
It's simple! If a pencil cannot easily be pushed into the moist ground, it's time to aerate. Lawn aeration is recommended in the spring or fall. In the spring, the ground is more malleable and easier to work with. Moreover, root growth is more active. The fall is also suitable because the plugs can be left to decompose on the ground over the winter.
4 good reasons to aerate your lawn:
1.It improves water absorption and provides oxygen for the roots
Instead of staying on the surface, the water will be absorbed by the roots, thereby reducing run-off and the need for watering. Oxygen is also an essential component of lawn growth.
2.It improves nutrient absorption
Fertilizer can easily penetrate to the roots.
3.It bolsters the decomposition of thatch on the soil surface
Better safe than sorry! Dethatching is a drastic solution, so it is preferable to trigger the gradual decomposition of thatch by aerating. For more details about dethatching, refer to our article: Spring maintenance: Cleaning and dethatching your lawn.
4.It promotes deep rooting
The holes created by aeration allow the grass to root deeper, grow more vigorously and resist drought, disease, and harmful insects.
How to aerate the lawn?
To aerate, you need a lawn aerator, which removes small plugs of soil. They can be rented from tool leasing companies. The use of spiked shoes is not advisable. In addition to being fastidious, this technique will only compact the soil even more.
The aeration of your lawn is an important step before top-dressing. For more information about top-dressing, refer to our article: To do in spring or fall: Top-dressing your lawn.
For more tricks and tips and to learn all about spring lawn maintenance, refer to our Lawn Calendar.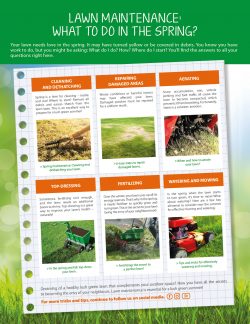 To discover many more tricks and tips, follow us on Facebook, Instagram and YouTube.